A moonshining hermit.  A reluctant pilot.  A $5million plunder.
Owen discovers a murdered corpse at a college-run archeological dig in the Utah outback but when he and a park service pilot try to reach the sheriff for help, their plane is shot from the sky. Owen must ditch the aircraft in the Colorado River, where he is saved by a gin-brewing recluse named Relic. The offbeat pair flee from the sniper and circle back to warn the students but not everyone there is who they seem... The two must trek through rugged canyon country, unravel a baffling mystery, and foil a remarkable form of thievery. Suzy, a student at the dig, helps spearhead their escape but the unique team of crooks has a surprise for them…
Can they uncover the truth and escape an archaeology field class that hides assassins and dealers in black-market treasure?
A Tale Flick Pick - 2020-2021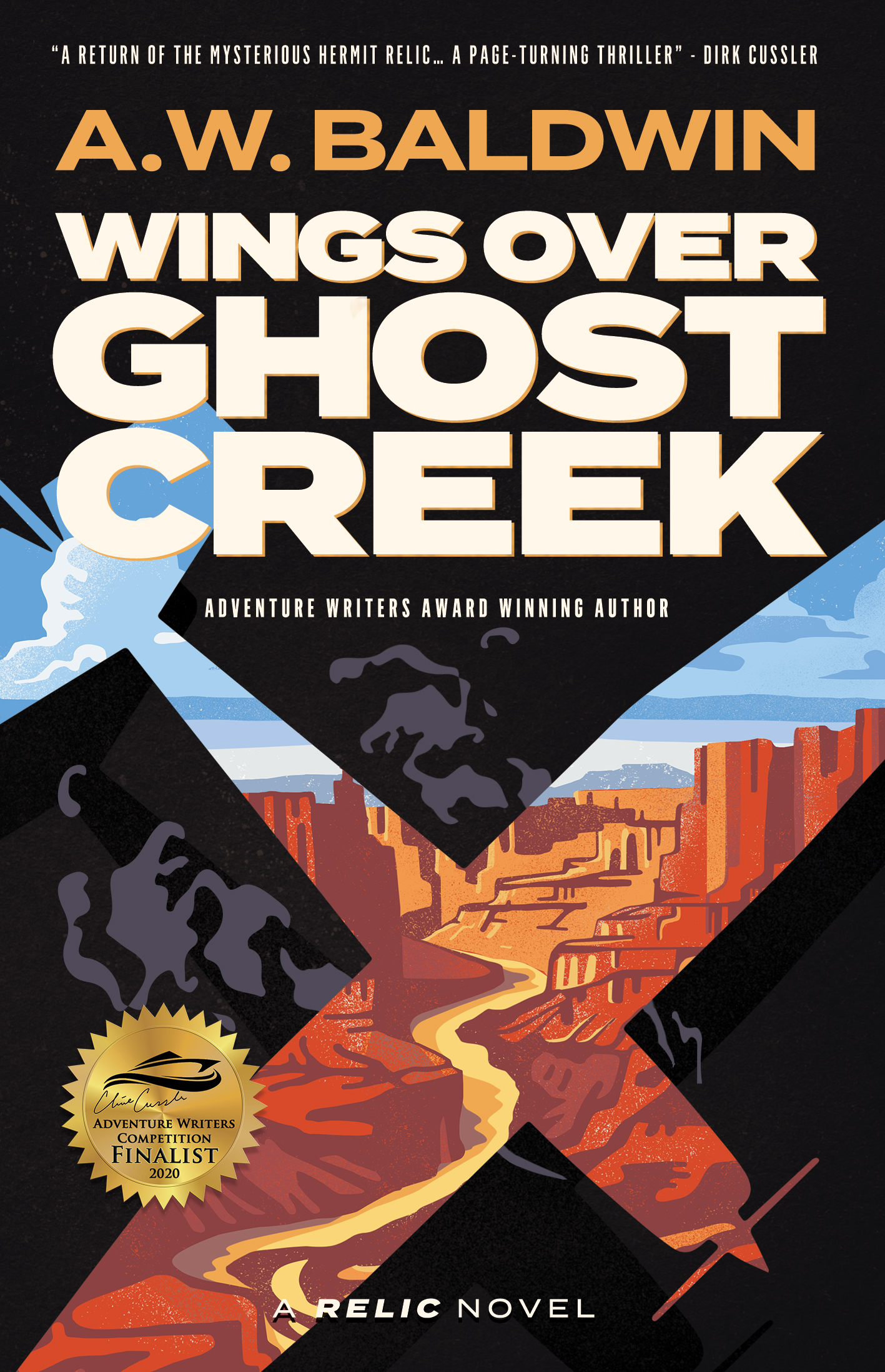 "A return of the mysterious hermit Relic...A page-turning thriller."
New York Times Bestselling Author Dirk Cussler
"Baldwin delivers another gripping Relic tale with trademark wit and deft expression. This is adventure with philosophy that keeps you nodding your head long after you've put the book down."
Jacob P. Avila, Cave Diver, Grand Master Adventure Writers Award Winner
"Wings Over Ghost Creek is a humorous, fun, and well-plotted adventure. Baldwin is a master storyteller, and you will enjoy spending some time with his main character, Relic."
Landon Beach, Bestselling Author of The Sail
"Wings Over Ghost Creek by A.W. Baldwin is a beautifully written thriller."
Readers' Favorite Five Star Review
"...crime drama with action-packed adventure and nerve-racking suspense, with a touch of romance and humor mixed in..."
OnlineBookClub.org
Wings has "funny, zippy dialogue", "[The] plot is lively and exciting", "suspense and action…keep[s] readers turning the pages until the very end", Relic brings "another level of wit and humor to the piece throughout", "A quirky mix of adventure, mystery and the great outdoors" with "characters [who] are credible and finely honed", A.W. Baldwin's third novel in the acclaimed outdoor adventure series is "sure to be a hit", "totally mad chase scenes…most highly recommended."
Readers' Favorite