A.W. Baldwin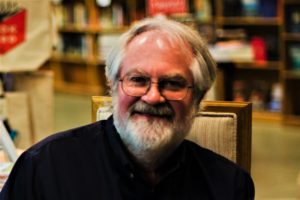 Readers' Favorite has awarded 5 Stars to each of his five novels, calling Raptor Canyon "a hoot of an adventure novel... most highly recommended" and describing Wings Over Ghost Creek as "a beautifully written thriller."  Raptor Canyon received the 2019 Grand Master Adventure Writers' Finalist Award, established by New York Times best selling author, Clive Cussler and was a finalist in the ScreenCraft Cinematic Book Contest 2019-2020. Wings Over Ghost Creek received the 2020 Grand Master Adventure Writers' Finalist Award. Broken Inn received the 2021 Grand Master Adventure Writers' Finalist Award and awards from Global Book Awards, New York City Big Book Awards, Books Shelf Writing Awards for Fiction, and Independent Press Awards.
An avid backcountry hiker, canoer, pilot, and whitewater enthusiast, the author takes his readers on adventures in ancient lands that shape the motives and spirits of his characters.
A.W. Baldwin finished his first novel, Desert Guardian, in 2017. His second novel, Raptor Canyon, builds on a character introduced in Desert Guardian, a moonshining hermit living deep in the remote canyons of Utah.  His third novel, Wings Over Ghost Creek, was released in 2019. Diamonds of Devil's Tail was released in 2020.  Broken Inn was released in 2021. Sandstone monuments, sheer canyons, and startling vistas provide the unique settings for these thrillers. Adventure, mystery, and personal challenge combine in a world surreal in its scope and deeply rooted in American history.
A graduate of Wright State University and the University of Idaho School of Law, Baldwin has practiced law for more than 35 years. He began his career with a poverty law fellowship award on the Wind River Indian Reservation in Wyoming.  He has appeared before the U.S. Supreme Court, Ninth and Tenth Circuit Courts of Appeal, and other Federal, Tribal, and State Courts. He won the right of the Northern Arapaho Tribe to operate (and self-regulate) the full gamut of casino-style gaming without state control. He has successfully litigated to protect First Amendment religious liberties, voting rights, Tribal sovereignty, and the environment. He earned his private pilot's license in 1997 and enjoys flying a Cessna 172.
Five Star Ratings from Readers' Favorite
All of his novels have five-star ratings from Readers' Favorite and are available through your local bookstore and amazon.com.